Phone: 480-575-3114

Address: 16 Easy Street
Carefree, AZ 85377

Email: Bagsandrags.toon@gmail.com

Hours: 7 Days: 10:00 AM to 5:00 PM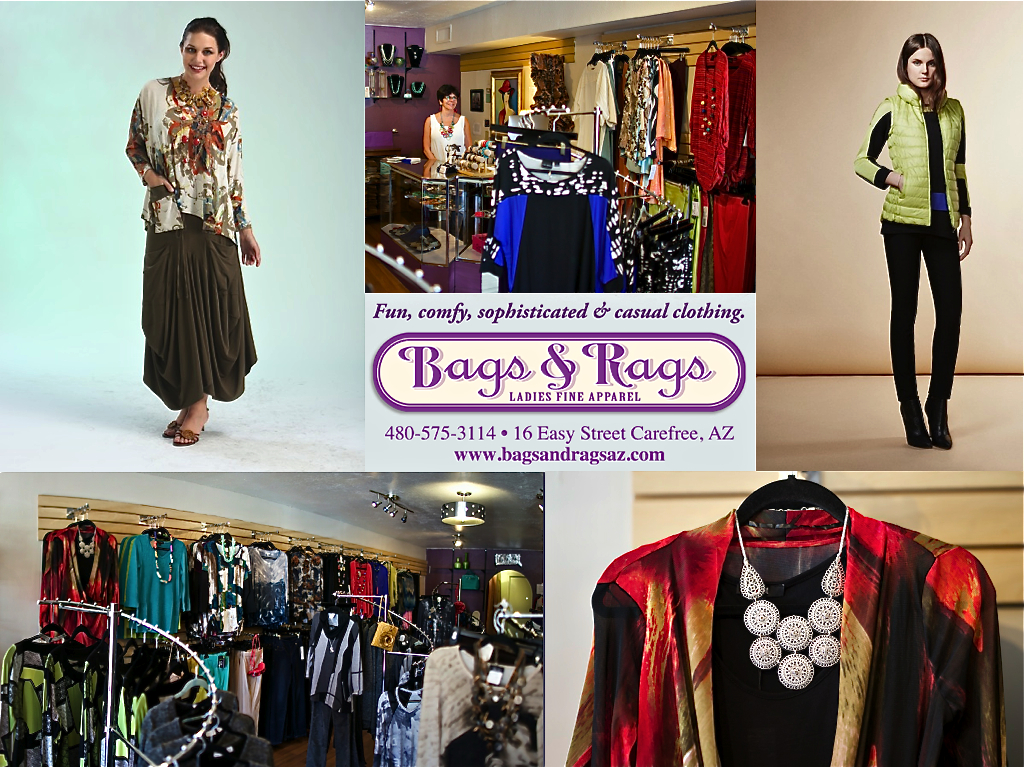 One of Carefree's festive offerings is a fine apparel and accessories boutique, Bags & Rags, located at 16 Easy Street in the heart of the downtown shopping district. Bags & Rags offers stylish, comfortable, easy care clothing for women of all ages and body types.

Many well respected designers are represented at Bags & Rags, including fun pants, tops and shrugs by Baik Baik in animal prints or a rainbow assortment of colors. For a more semi-formal to formal look check out Cordelia, an American designer whose eye-catching clothes are made in the U.S.A. Another American design company is Surrealist, owned by two women who understand women's bodies. They create sliming clothing with graceful flowing lines, using soft fabrics that skim the body. Frank Lyman designs with the more daring and youthful customer in mind. Tribal is a Canadian manufacturer well known for producing quality clothing. These are but a few examples of the many featured designers.

As the name would suggest, Bags & Rags has an outstanding selection of unique, attractive and appropriately priced handbags. If you are in the market for a quality affordable stand-out purse, you will find it here. They also carry numerous other accessories to compliment and finish your new outfit, such as fashion sun glasses and handmade jewelry created by local artists. For a "complete" look, this is the place to shop.

Bags & Rags is an intimate boutique, with proprietor Rose Toon dedicated to helping you find the right look for your personality and body shape. Rose has years of experience in retail and she views her clients as friends, striving to make them feel welcome, never pressured or uncomfortable. Time spent in her shop is fun and relaxing.

So the next time you visit Carefree, don't miss one of the jewels of the downtown. Take time to browse in Bags & Rags, for clothing and accessories you won't see every day.